New Delhi. In the Tokyo Olympics, gymnast Artem Dolgopyat created history and won gold for his country Israel. This is Israel's second gold medal in Olympic history. However, after this victory, Indian singer Anu Malik dominated social media and now he is getting trolled fiercely. In fact, the national anthem of Israel, which won the gold in the medal ceremony, was played and since then Anu Malik is being accused of stealing the tune.
People say that the national anthem of Israel and Anu Malik's song Mera Mulk Mera Desh in the 1996 film Diljale, both have very similar tunes.
So Anu Malik didn't spare even Israeli national anthem while copying tune for Diljale's Mera Mulk Mera Desh in 1996

Thanks to internet we now know thispic.twitter.com/LtQMyU5dp2

— Monica (@TrulyMonica) August 1, 2021
People are targeting Anu Malik saying that he got the national anthem of another country to copy.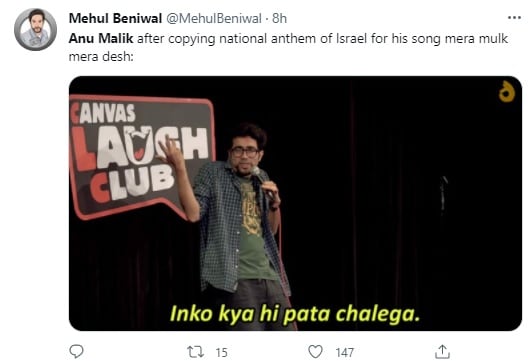 Read also:
Tokyo Olympics: Boxer Satish Kumar told – Frightened by 13 stitches, the family members said – don't play but…
The champion of the Tokyo Olympics, who was knitting a sweater sitting in the audience in the final
Dolgopayat won the floor exercise gold medal by defeating Spain's Rederli Zapataco in a tiebreak. In the finals both the Israeli player and Zapata scored 14.933 points. Dolgopayat was awarded the gold after scoring the same number of points, as he had tried a little harder than Zapata.
Read Hindi News online and watch Live TV NayaTez on Hindi website. Know news related to country and abroad and your state, Bollywood, sports world, business.

#Tokyo #Olympics #Israel #wins #gold #history #singer #Anu #Malik #accused #stealing #tunes