#Shooting #Khuda #Gawah #Afghanistan #dream #Amitabh #Bachchan

Mumbai: The people of Afghanistan love Bollywood movies very much. Many films were shot in different areas of Afghanistan and films were also screened there. Amitabh Bachchan and Sridevi's film 'Khuda Gawah' was also very much liked there. Today, when the situation in Afghanistan has worsened, in such a situation, the mention of those films which were shot there is coming to the fore. When the shooting of Mukul S Anand's film 'Khuda Gawah', released in 1992, was going on, the present government had made tremendous security arrangements.
Half the Air Force deployed for Amitabh's security
Najibullah Ahmadzai, the former President of Afghanistan, was a big fan of Hindi films. He had made elaborate arrangements for the safety of Amitabh Bachchan. When Amitabh was shooting there, he had deployed half of his country's air force under his protection. 'Khuda Gawah' is also one of those Indian films which Afghan people saw a lot.
(Photo Credits: retrobollywood/Instagram)
Amitabh Bachchan had a memorable trip
In an interview to Bollywood Bubble, Amitabh Bachchan recalled the days of the film 'Khuda Gawah' and said that 'there were tanks and security personnel stationed everywhere. Despite all this, it is the most memorable trip of my life. We got a call from a place, so Danny Denzongappa, Mukul and I left for there in a chopper. Five other helicopters were flying with our chopper. It was a memorable ride to never forget. The aerial view was so spectacular that don't ask, the mountains were sometimes pink and sometimes purple because poppies were in bloom all around. In the valley where the chopper landed, it seemed as if time had stopped. We had a view of the Middle Ages. On seeing us, the people there lifted us on their shoulders, because according to their tradition, the feet of the guest should not fall on the ground.
everything was like a fairy tale
Amitabh Bachchan further told that 'After taking care in the palace, they took us to the ground where the traditional game Bujkashi tournament was organized for us. It was decorated with colorful tents. Everything seemed like a dream to us. We ate and drank a lot and spent the night there. It seemed as if there was a fairy tale. When we started returning, we were loaded with gifts'.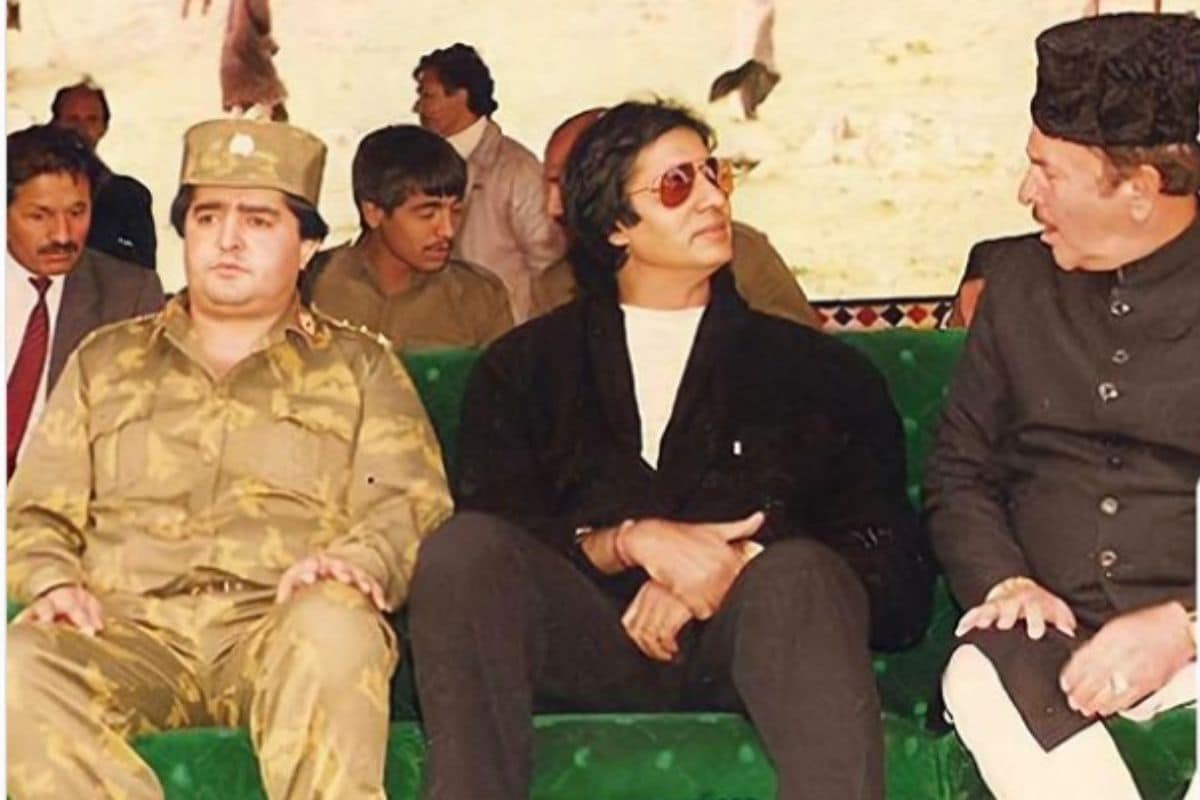 (Photo Credits: retrobollywood/Instagram)
Amitabh got royal feast
It further explains that 'When the time came to return to India after shooting in Kabul, Najeeb invited us to the royal banquet at the President's residence. There was a wonderful decoration. That evening his uncle sang an Indian song. When we were discussing the script of 'Khuda Gawah', I said let's go to Afghanistan to shoot. We also shot at Mazar-e-Sharif.
Also Read – Kabul Express: When the hero-script was all ready with Kabir Khan, producers were not available
There were many people in Afghanistan who loved Amitabh Bachchan. He had received royal honours. Apart from Amitabh and Sridevi, Shilpa Shirodkar was also in this film. The song 'Khuda Gawah' from this film was very much liked.
Read Hindi News online and watch Live TV NayaTez on Hindi website. Know news related to country and abroad and your state, Bollywood, sports world, business.