#Jair #Bolsonaro #Brazil #President #Pizza #President #Brazil #corona #vaccine #pizza #eaten #street #America #brazil #president #jair #bolsonaro #entry #restaurant #due #covid #eats #pizza #york #sidewalk #photo #viral #internet

A photo is going viral on social media. In which Brazilian President Jair Bolsonaro is visible. But the matter is so strange that it is difficult to believe the photo. So let's first understand what is the matter?
What is the truth?
The photo of Brazilian President Jair Bolsonaro which is going viral on social media is absolutely real. Let us tell you that Jair Bolsonaro was in New York, America to attend the United Nations General Assembly (UNGA) conference. But during this time such an incident happened which I am not able to accept the truth. Brazil's President Jair Bolsonaro had to work his first night in New York by eating a roadside pizza. The reason behind this is so much fun that you will also get this lesson.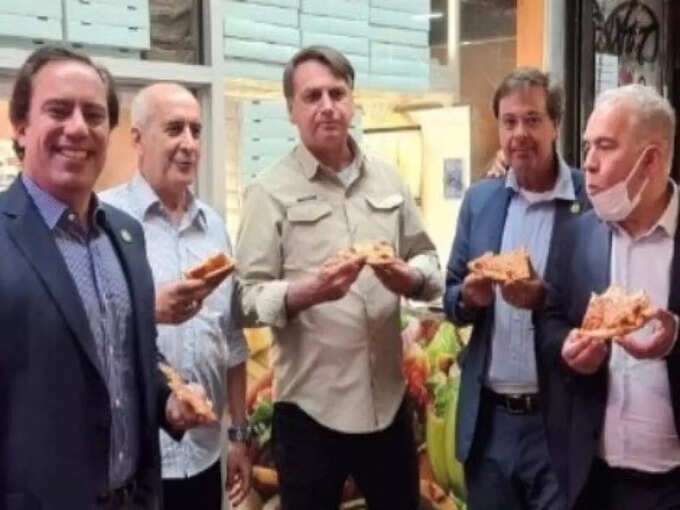 Why had to eat pizza on the street?
The reason behind this is Corona. Because after the arrival of Corona, a lot has changed in our life. Brazilian President Jair Bolsonaro had to do this because he has not yet administered a single dose of the corona vaccine. Let us tell you that New York restaurants are not allowed inside without proof of Kovid vaccination. Due to this rule, the President of Brazil also had to eat pizza outside the hotel.
who posted the photo
In this viral photo posted by two cabinet ministers in the delegation, they can be seen eating pizza on a New York street. Let us tell you that before leaving for New York, Jair Bolsonaro had said that my body's immune system is so strong that it can easily combat the corona virus.
What did people say?
Various reactions from users are being seen regarding the picture of Bolsonaro eating pizza on the roadside. Some are criticizing Bolsonaro for not being vaccinated. At the same time, his supporters are calling it an example of the simplicity of his President. What is your opinion about this photo? Is the President of Brazil Right or Wrong? Tell us your opinion by commenting