#Bhuj #Review #proud #Bhuj #Pride #India

Bhuj Review: In a span of 24 hours you watch two movies of Desh Prem. On seeing one, it seems that research has been done in its making and good acting has been done by the actors, there is good direction. Looking at the other, why is it made? Bhuj – The Pride of India had all the formulas to make a good film. Real life story, Patriotism, War, Story of indomitable courage, Challenge to do a great job in Bahu Hum Samaye, Hero like Ajay Devgan, actors like Sonakshi Sinha, Sanjay Dutt and Sharad Kelkar but the film's poor screenplay and even worse The direction has spoiled the whole fun of the film.
August 15 is a day when the feelings of patriotism are running inside our patriots throughout the week. No matter how bitter a man may be, the day of independence is also important for him. This whole week, sometimes a little and sometimes more patriotism takes place. This year is the 75th anniversary of India's independence, so every film releasing at this time has to be the best. There should be so much masala that lasts in the cinema hall for at least 75 days. Bhuj kills in all departments. Ajay Devgan must have done many bad films but he may not like a strange film like Bhuj.
The real story was of Sundarben of Madhapur village in Bhuj district and 300 women there. These women, day and night, rebuilt the Bhuj airstrip, destroyed by the Napalm bombs dropped from Pakistani planes, while the threat of another Pakistani attack loomed large. The airstrip was rebuilt in 72 hours and to prevent the invasion of Pakistan, the Indian Army could land an airplane there. The entire construction of the airstrip was done under the understanding and supervision of Squadron Leader Vijay Karnik (referred to as 'Karnik' throughout the film, because of any idiot who doesn't know the pronunciation) of Bhuj airport in-charge. Women were dressed in saris that did not look very different from the clay and how to protect themselves when the siren sounded, their food and drink arrangements were also taken care of. In the film, it has been "dealed" in such a superficial way that the mind gets disturbed.
Sonakshi Sinha has an important role in this film of Ajay Devgan.
The weak aspects of the film are not one but many. First let's talk about the story itself. The focus was to rebuild the runway, to make Ajay Devgan the hero, while Ajay has never had any insecurities about his roles. Well, director Abhishek Dudhaiya has written the screenplay along with Raman Kumar. Raman has previously written a television serial named 'Ehsaas' for Abhishek. You can clearly understand how heavy the hangover of television has been. Such a strange script was written that there was no connection. Then probably Ritesh Shah was called to improve the script. Ritesh has written many films like Kahaani, Pink, Red, D Day. His command over dialogues is also good. Pooja Bhavoria is also associated with its story and screenplay, but her contribution could not be understood. The matter did not end here. Manoj Muntashir was also roped in to write additional dialogues in the film. The basic plot of the film is inspirational, on the same lines, the atomic film was made. But Bhuj turned cold. Efforts have been made to run 3-4 stories simultaneously, the characters were not allowed to develop and suddenly a lot of characters are seen who leave after uttering a dialogue. This film should be completely rewritten.
Editing is done by Dharmendra Sharma. Probably works in Ajay Devgan's film company because Dharmendra has edited all his films. A weak script should be protected with excellent editing. But the editor sahib has done very weak editing, matching the script of the film. Could the redundant characters have been removed in the editing, yes. Could the editing have given the lead characters a right direction, yes. Could the editing have saved the story from breaking, yes. Could editing have brought everything together, yes. But this was not done. The film carries so many stories together that Bhuj's name should have been a burden.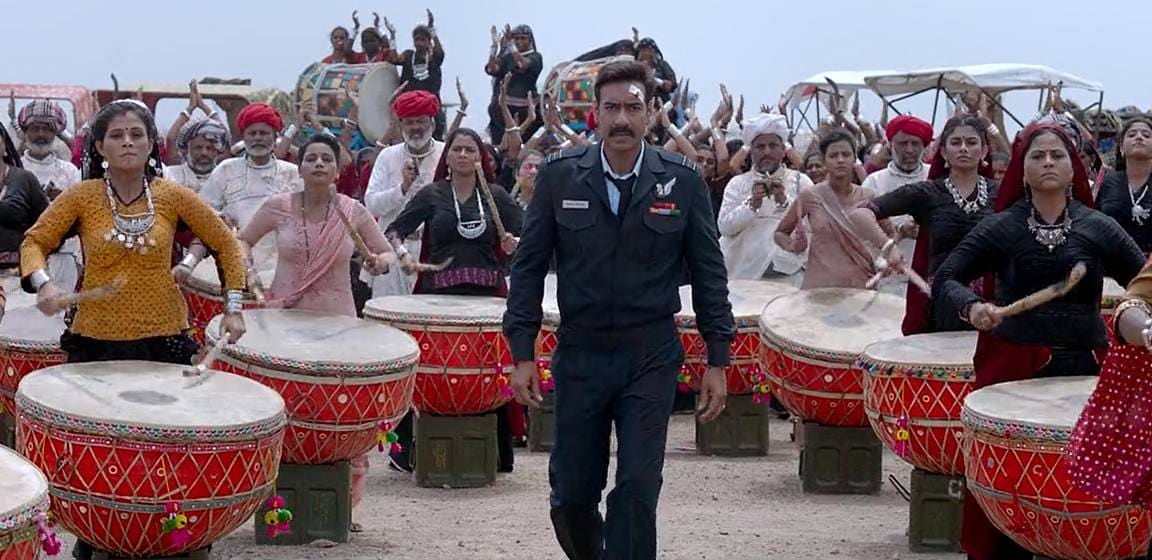 A scene from Ajay Devgan's film 'Bhuj'.
Cinematographer Aseem Bajaj is also a favorite of Ajay Devgan. He is in almost every film. Asim had the possibility that he would have shot each track of the film in a different way so that the audience could feel his difference. Airport Attack, Ajay Devgan's Track, Nora Fatehi's Track, Sharad Kelkar's Track, Sanjay Dutt's Track. Everyone would have been filmed in different ways and then mixed together, the matter would have been different.
Nothing was kept for the actors in the film. Ajay Devgan looks strange even while speaking the dialogues of patriotism. He was the airport in-charge and his job was to get the airport runway repaired, the way he uses the anti-aircraft gun looks very clumsy. Going forward, he and his wife Usha (Pranita Subhash) also drive road rollers. Based on true events of patriotism, at least patriotism was not shown through tali-pito type dialogues in Sher Shah, while Captain Vikram Batra was very verbose in his personal life. Ajay Devgan also speaks film dialogues and keeps appearing "Busy Without Business". This is the weakest character of Ajay's career.
Pranitha Subhash's second successive film (Hungama 2) has disappointed her. In Bhuj, there was nothing to say. Sharad Kelkar has again appeared with Ajay Devgan after Tanhaji. The role was good, Sharad played it well too. He himself had become a Malayali army officer but he married a Muslim girl, Zeenat, who was handicapped with legs. It had nothing to do with the original story. Sanjay Dutt got a strange role in Ranchoddas Rabri "Paagi". Sanjay Dutt is a close friend of Ajay and this film was also done for that reason. Like his own old film "Zinda", Sanjay is taking his ax and cutting Pakistani soldiers as carrot radish and those soldiers themselves are ready to come and cut them. Felt stupid action. Sanjay Dutt's turban and antimony in his eyes cannot hide his intoxication.
This role could have been very good for Sonakshi Sinha but the writers of the film had written the film for Ajay Devgan. Sonakshi's character became completely useless. Suddenly she saves the leopard from attacking the cow and slits its throat with a sickle. The next moment she starts teaching the lesson of patriotism to the girls of the village. Such incomplete character development goes on in television serials, but not in films. Punjabi singer Amy Virk has played an important role. What would have happened even if it wasn't a track? Amy, however, did a fine job and in this affair her first film became "Bhuj" and not Kabir Khan's "83" with cricket. There is another track in the film of Nora Fatehi who spies for India by becoming the wife of the Intelligence Chief of Pakistan, and seeks to avenge the death of her martyred spy brother. Another strange track that was equal to whether it was in the film or not. Nora has not even got an opportunity to show her dance skills. He has tried unsuccessfully to do acting and action.
The film is very boring. The story is neither made properly nor edited properly. A lot of money has been invested in special effects which seems to be wasted. Whatever the motive behind making the film, neither the writer nor the director can run away from the responsibility of such a bad deed. The women who worked for 72 hours day and night to rebuild the Bhuj airstrip felt that they were doing something for the country. The film focuses so much on Ajay Devgan that the stature of this story of vitality and indomitable courage is greatly reduced. He will have to face the punishment. People will definitely watch because there are big names in the film, but will be sad because the writing and direction of the film is very novice. If you don't watch then your pride will not get hurt because there is nothing in the film for that. Even the music is not such that you remember anything.
Read Hindi News online and watch Live TV NayaTez on Hindi website. Know news related to country and abroad and your state, Bollywood, sports world, business.