#Amitabh #Bachchans #granddaughter #Navya #Naveli #started #organization #women #fight #legal #battle

New Delhi: Only a woman can understand the problems and needs of women properly, because they too have faced those challenges and difficulties at some point of time in their life. There is a lot of talk on women empowerment, but there are very few people working at the grassroots level. Amitabh Bachchan's granddaughter Navya Naveli Nanda is one of the few people who are working at the grassroots level for the rights of women. Now she has started an organization, which will fight the legal battles of women.
Navya has informed her fans about this through Instagram. The name of his organization is- 'Nyayri'. He has told about this by sharing the tag line and logo of his organization. She writes, 'We believe that legal rights do not work in the air. If we want women to get justice, then we have to make them strong and stand up for their rights. That's why we have decided to provide special services, which will work for the all round development of women.
(Photo Credits: Instagram/navyananda)
Navya has also thanked her team members for this unique initiative. She further says, 'Thank you also to this wonderful team of ours, who have worked tirelessly to bring this initiative on the ground. We are excited to meet you soon with the organization 'Nyari'. Navya has shared this post about an hour ago, on which close to one and a half thousand likes have come.
The fans of StarKid have also boosted their morale by commenting and appreciated their initiative. One user writes, 'Great initiative… May you get success in your journey.' Another user says, 'You are doing a great job.'
read this alsoWhen Captain Vikram Batra's girlfriend Dimple Cheema asked Vishal Batra- 'Won't you dance in our wedding?'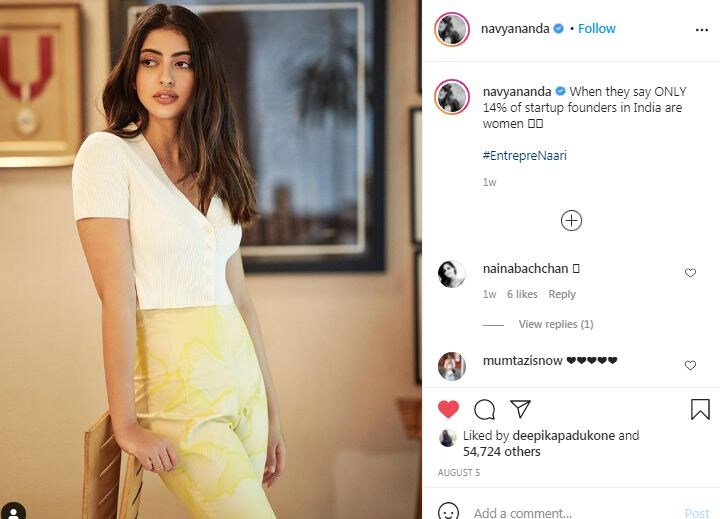 (Photo Credits: Instagram/navyananda)
This is not the first time that Navya is talking about women's rights. He had earlier started a digital campaign called 'Har Circle' on gender inequality in India. She has also started a project named 'Nimaya', which aims to help women of 21st century in skill development. 'Nimaya' in Sanskrit means 'opportunity'.
Read Hindi News online and watch Live TV NayaTez on Hindi website. Know news related to country and abroad and your state, Bollywood, sports world, business.